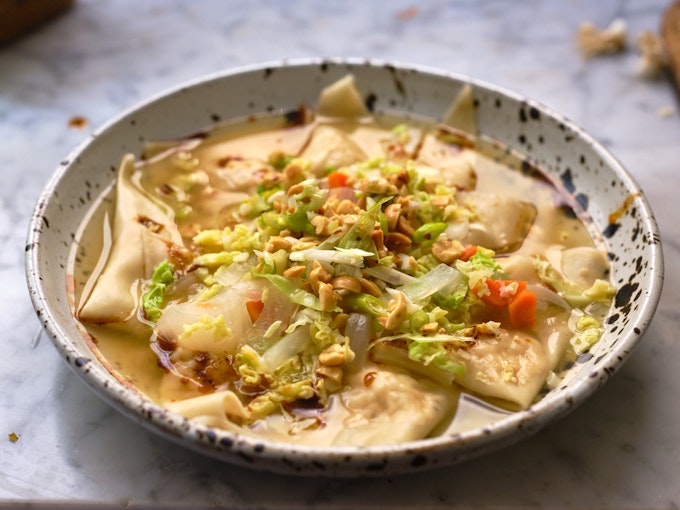 Wonton Soup
Wonton soup is a popular Chinese dish that consists of wontons, which are small dumplings filled with seasoned ground meat or vegetables, in a clear broth. Here is a recipe to prepare wonton soup:
Ingredients:
1/2 pound ground pork
2 tablespoons soy sauce
2 tablespoons Shaoxing wine (or dry sherry)
1 tablespoon sesame oil
1 tablespoon cornstarch
1 teaspoon grated ginger
2 garlic cloves, minced
1/4 cup chopped scallions
24 wonton wrappers
6 cups chicken broth
4 baby bok choy, cut into bite-sized pieces
Salt and pepper, to taste
Instructions:
In a large bowl, combine the ground pork, soy sauce, Shaoxing wine, sesame oil, cornstarch, ginger, garlic, and scallions. Mix well.

Lay a wonton wrapper on a clean surface. Place a teaspoonful of the pork mixture in the center of the wrapper. Wet the edges of the wrapper with a little water and fold the wrapper over to form a triangle. Press the edges to seal. Repeat with the remaining wonton wrappers and pork mixture.

In a large pot, bring the chicken broth to a boil. Add the wontons to the pot and cook for 5-6 minutes or until they float to the surface.

Add the bok choy to the pot and cook for an additional 2-3 minutes or until the bok choy is tender.

Season with salt and pepper to taste.

Ladle the soup into bowls and serve hot.
Enjoy your homemade wonton soup!