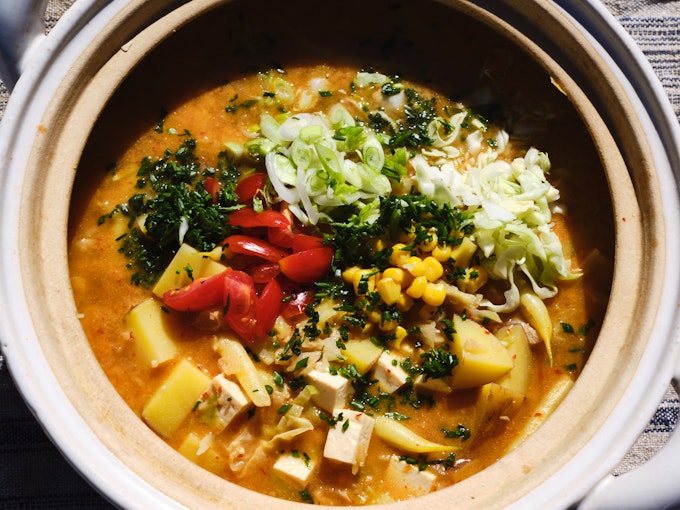 Spicy Summer Miso Soup
Spicy Summer Miso Soup is a refreshing and flavorful soup that is perfect for hot summer days. Here's a recipe to prepare it:
Ingredients:
4 cups of water
1 tablespoon of dashi powder (Japanese soup stock)
1 tablespoon of miso paste
1 tablespoon of soy sauce
1 tablespoon of chili paste or sauce
1 cup of sliced shiitake mushrooms
1 cup of sliced tofu
1 cup of sliced green onions
1 cup of fresh corn kernels
1 tablespoon of sesame oil
1 tablespoon of chopped fresh cilantro (optional)
Instructions:
In a medium-sized pot, bring 4 cups of water to a boil. Add dashi powder and stir until it dissolves.
Add sliced shiitake mushrooms, tofu, and corn kernels to the pot and let them simmer for 2-3 minutes.
In a separate bowl, mix miso paste, soy sauce, and chili paste/sauce with a few tablespoons of hot water until it forms a smooth mixture.
Add the miso mixture to the pot and stir well.
Turn off the heat and add sliced green onions to the soup.
Drizzle with sesame oil and garnish with chopped cilantro (optional).
Serve hot and enjoy!
Note: Adjust the amount of chili paste/sauce based on your preference for spiciness. You can also add other ingredients such as shrimp, scallops, or chicken to the soup.
About Templateify
Hi FOOD LOVERS, and thanks for visiting my blog post!. I love food. Ever since I was a little kid I have had this immense passion for cooking.I thought to myself. Why not share with the rest of the world wholesome healthy foods and ways to be happy and healthy that will keep even the most snobby foodie asking for more.
Related Posts