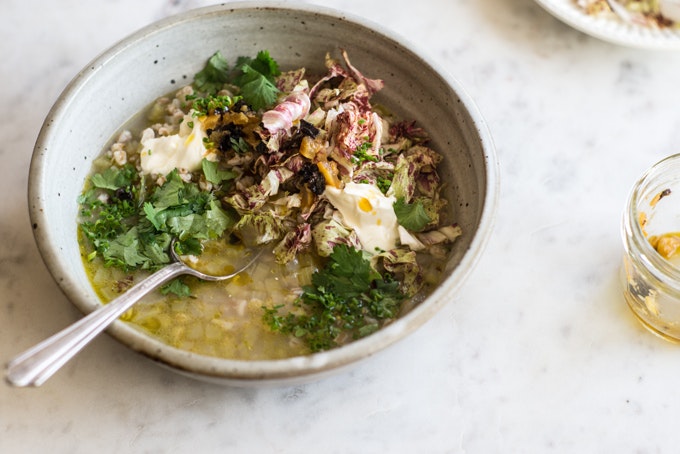 2 recettes for Chicory Soup & Camino
Here are two recipes for Chicory Soup and Camino:
Chicory Soup:
Ingredients:
2 tablespoons olive oil
1 onion, chopped
2 cloves garlic, minced
2 heads chicory, chopped
4 cups chicken or vegetable broth
Salt and pepper to taste
1/2 cup heavy cream (optional)
Instructions:
Heat the olive oil in a large pot over medium heat.

Add the onion and garlic and sauté until softened, about 5 minutes.

Add the chopped chicory and continue to sauté until it begins to wilt, about 5 more minutes.

Pour in the broth and bring to a boil.

Reduce the heat and simmer for 20-30 minutes, until the chicory is tender.

Season with salt and pepper to taste.

Use an immersion blender or transfer to a blender to puree the soup until smooth.

If desired, stir in the heavy cream.

Serve hot.

Camino:
Ingredients:
1 lb. ground beef or lamb
1 onion, chopped
2 cloves garlic, minced
2 teaspoons paprika
1 teaspoon cumin
1/2 teaspoon cinnamon
1/4 teaspoon cayenne pepper (optional)
Salt and pepper to taste
1 can diced tomatoes
1 can chickpeas, drained and rinsed
1/2 cup chopped fresh parsley
Lemon wedges for serving
Instructions:
In a large skillet, brown the ground meat over medium heat, breaking it up with a spoon as it cooks.
Add the chopped onion and garlic and continue to cook until the onion is softened, about 5 minutes.
Stir in the paprika, cumin, cinnamon, cayenne pepper (if using), salt, and pepper, and cook for another 2-3 minutes.
Pour in the diced tomatoes with their juice and the chickpeas.
Bring to a simmer and cook for 10-15 minutes, until the sauce has thickened slightly.
Stir in the chopped parsley.
Serve hot with lemon wedges for squeezing over the top.
About Templateify
Hi FOOD LOVERS, and thanks for visiting my blog post!. I love food. Ever since I was a little kid I have had this immense passion for cooking.I thought to myself. Why not share with the rest of the world wholesome healthy foods and ways to be happy and healthy that will keep even the most snobby foodie asking for more.
Related Posts